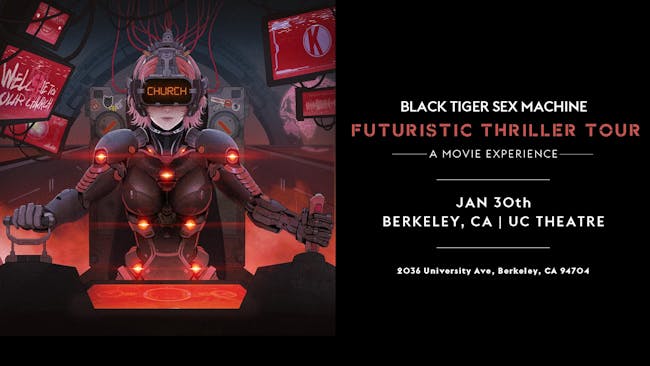 The UC Theatre Presents: Black Tiger Sex Machine on 1/30/20
ABOUT BLACK TIGER SEX MACHINE
The Canadian trio Black Tiger Sex Machine are known for their dynamic rage-ready style, an explosive blend of heavy electro and bass. Their show is a unique experience that strikes the perfect balance between a live performance and a DJ set. Along with their music, their signature Tiger helmets and their apocalyptic Kannibalen world have attracted legions of faithful followers called the BTSM Church.
Downtown Berkeley is easily accessible by all modes of transportation including BART, bus, bicycle, and automobile.
PARKING:
Center Street Garage
Golden Bear Parking Lot
BART:
The Downtown Berkeley BART Station is located in downtown Berkeley on Shattuck Ave. between Center St. and Allston Way. BART serves San Francisco/Colma, SFO/Milbrae, Fremont , Richmond , Dublin / Pleasanton , and Pittsburg/Bay Point.
AC TRANSIT:
AC Transit serves the downtown with numerous bus lines and the UC Campus Shuttle circles the campus every 12 to 30 minutes during peak hours. More than 2,500 parking spaces are available on the street and in parking garages and lots throughout the downtown.

Venue Information:
The UC Theatre Taube Family Music Hall
2036 University Avenue
Berkeley, CA, 94704