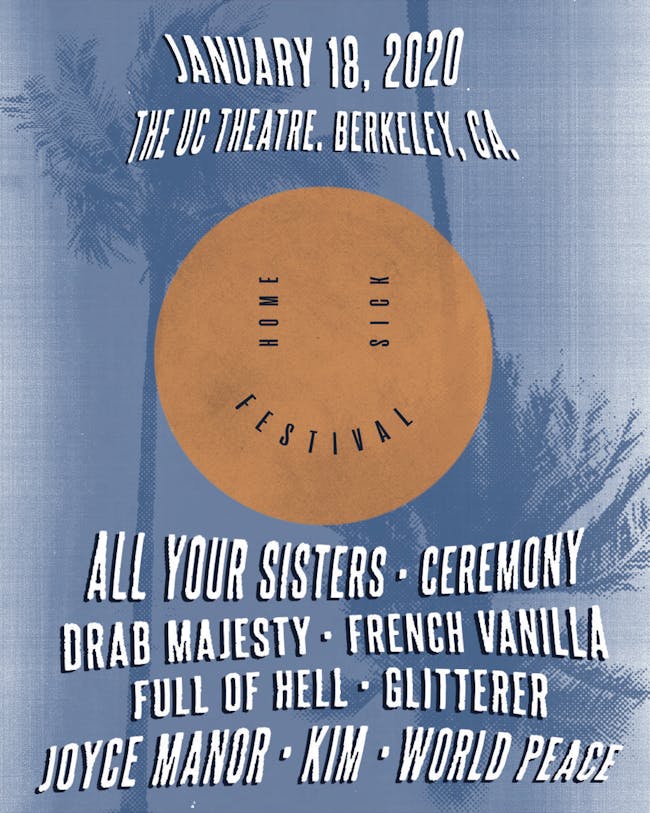 Homesick Festival with Joyce Manor
Drab Majesty, Ceremony, Full Of Hell, All Your Sisters, French Vanilla
The UC Theatre Presents: Home Sick Festival with Joyce Manor + more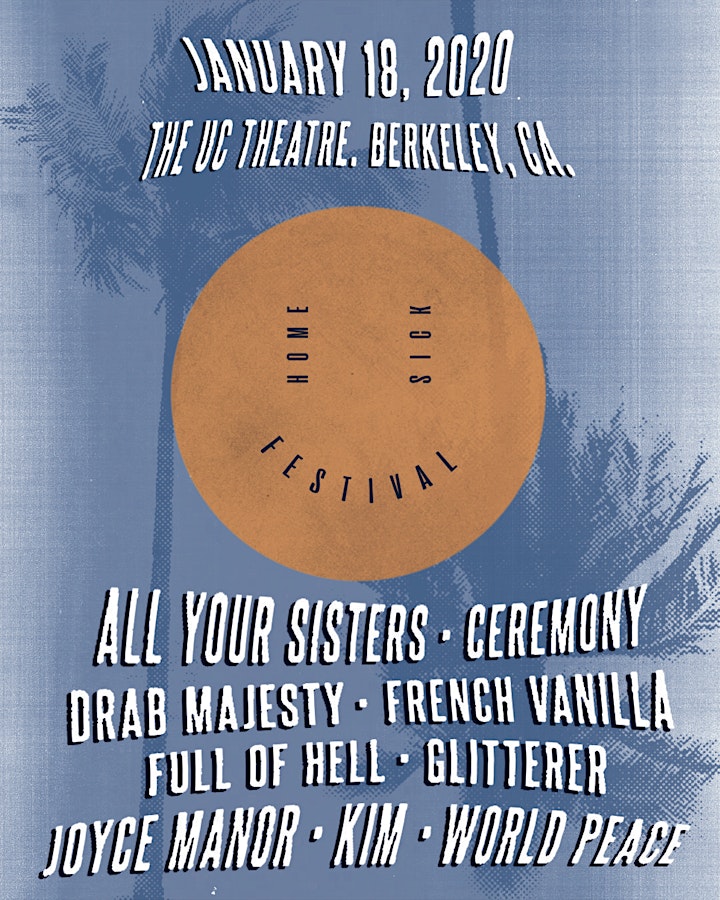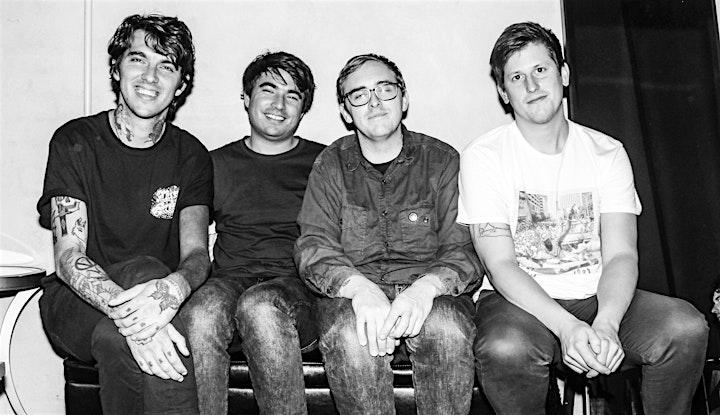 ABOUT JOYCE MANOR
Let's start the story of Joyce Manor's Million Dollars To Kill Me at the end of Million Dollars To Kill Me—at the last not-even two minutes of "Wildflowers," a song about light and beauty and wonder that ends the record like a sunrise after a long exhausting night. It's not a sing-along single or a bleaked-out slow-burner. It's brief, understated, and simple but sophisticated as it says what it needs to say in seven sharp lines. And it ends the album with a question instead of an answer, because on an album like this, questions are more honest. If 2016's Cody was about growing up, then Kill Me is about what happens next—the reckonings with love, money, doubt and confusion, and the hope that persists despite it all. That's where "Wildflowers" comes in. Says Barry Johnson, band co-founder/guitarist/vocalist: "'Wildflowers' is my favorite song on the record—maybe my favorite song I've ever written. It's about how something can be so beautiful it breaks your heart."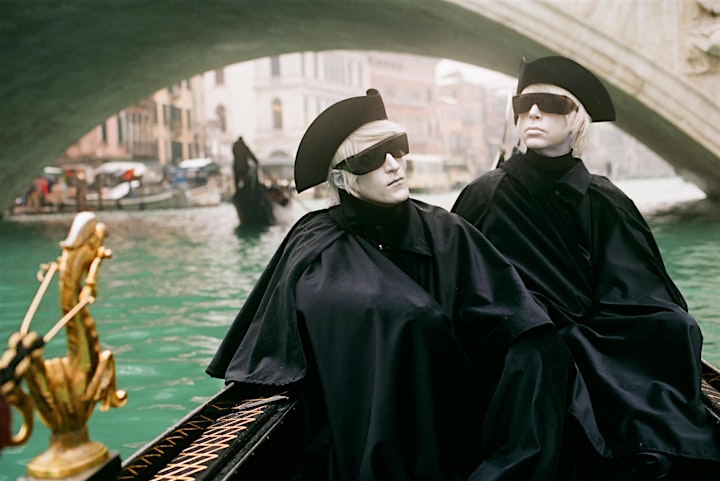 ABOUT DRAB MAJESTY
Drab Majesty is the solo project of Deb DeMure, the androgynous alter-ego of L.A.-based musician Andrew Clinco. With its combination of reverb-drenched guitars, synth bass lines, commanding vocals, and rhythmic drum machine beats, this project is a stark departure from Clinco's previous stints as drummer in Marriages and Black Mare. Dubbed "Tragic Wave" and "Mid-Fi" by DeMure, Drab Majesty eloquently blends classic 80s New Wave and hints of early 4AD with a futuristic originality. Drab Majesty's first release, a limited-edition cassette of 100 copies titled Unarian Dances, was self-released in 2012 and re-pressed by Lolipop Records shortly thereafter. Drab Majesty then signed with Dais Records and put out the debut LP Careless in 2015. Careless was met with high praise from critics and fans alike, and the original pressing is now a sought-after gem. A year after the initial pressings of Careless sold out, Dais released a compilation titled Completely Careless, featuring Drab Majesty's entire discography, including two previously unreleased tracks.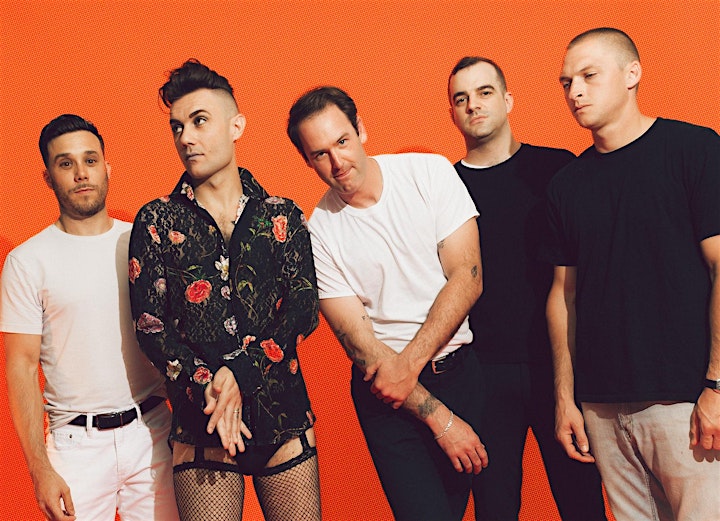 ABOUT CEREMONY
Ceremony's lead guitarist Anthony Anzaldo doesn't want to talk about the fact that his band has been around for over ten years. Or that they've drifted away from the hardcore genre that made them, or that they jumped ship from their long-time label, Matador Records, to join Relapse Records instead. Or that their sixth album will mark four years since the iconic punk band has released any new material. These things aren't ​really​ important. What matters is that ​In the Spirit World Now​ is Ceremony's most driving, intelligent collection of songs to date.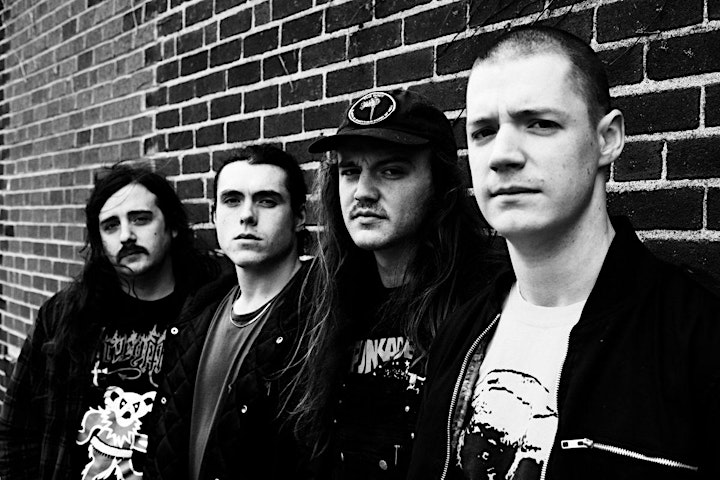 ABOUT FULL OF HELL
In certain circles, FULL OF HELL needs no introduction. This young band has made a name for themselves in a short amount of time, racking up a prolific touring and release history while exploring a gamut of sounds within the spectrum of extreme and avante garde music. Formed in 2009, the embryonic beginnings of FULL OF HELL display their palette at its most primitive, d-beat and blast ridden hardcore punk with spats of noise and caustic rhythm, and within a few short years, they have bloomed into a true force to be reckoned with within the punk and metal communities. 2014 saw the release of their now acclaimed double album collaboration with Japanese noise legend MERZBOW, which showed the band truly beginning to come into their own, combining elements of grindcore, death and black metal, punk and hardcore with a smattering of sonically laden power electronics and industrial pounding. 2016 saw the release of their collaboration with the thundering and depressive duo, THE BODY, entitled One Day You Will Ache Like I Ache. This acclaimed release was followed by a collaborative live tour, where the band bent expectations again in a whirlwind of electronic percussion and drone. 2017 was another prolific year for the band as they released their third proper full-length Trumpeting Ecstasy along with another collaboration with THE BODY entitled Ascending a Mountain of Heavy Light. Excessive touring ensued and now the band has signed with legendary label Relapse Records for their next full-length. Numb your mind.
Downtown Berkeley is easily accessible by all modes of transportation including BART, bus, bicycle, and automobile.
PARKING:
Center Street Garage
Golden Bear Parking Lot
BART:
The Downtown Berkeley BART Station is located in downtown Berkeley on Shattuck Ave. between Center St. and Allston Way. BART serves San Francisco/Colma, SFO/Milbrae, Fremont , Richmond , Dublin / Pleasanton , and Pittsburg/Bay Point.
AC TRANSIT:
AC Transit serves the downtown with numerous bus lines and the UC Campus Shuttle circles the campus every 12 to 30 minutes during peak hours. More than 2,500 parking spaces are available on the street and in parking garages and lots throughout the downtown.

Venue Information:
The UC Theatre Taube Family Music Hall
2036 University Avenue
Berkeley, CA, 94704