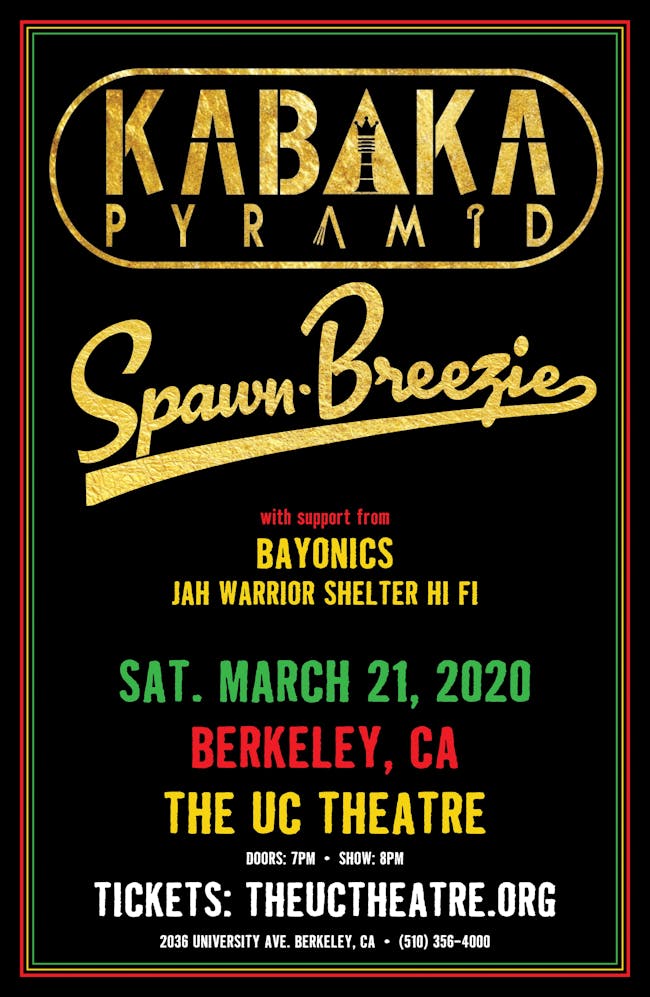 Kabaka Pyramid
Spawnbreezie
Bayonics, Jah Warrior Shelter Hi Fi
$32.50 - $250.00
Postponed
The UC Theatre Presents: Kabaka Pyramid and Spawnbreezie with Bayonics, JAH Warrior, Shelter Hi Fi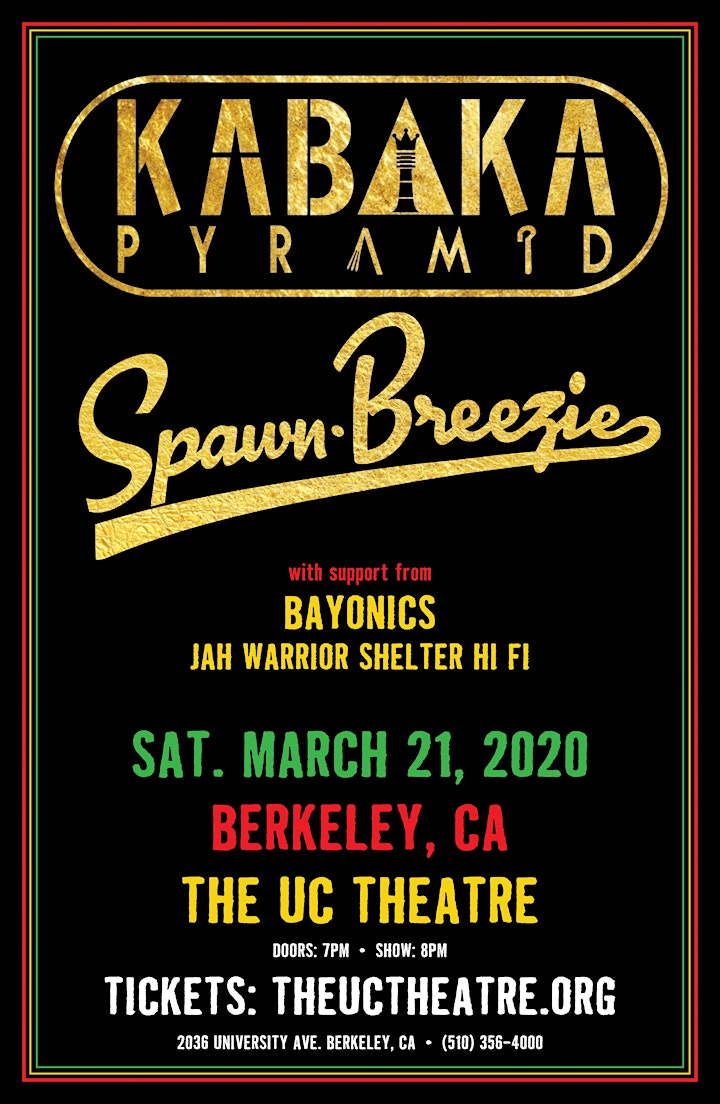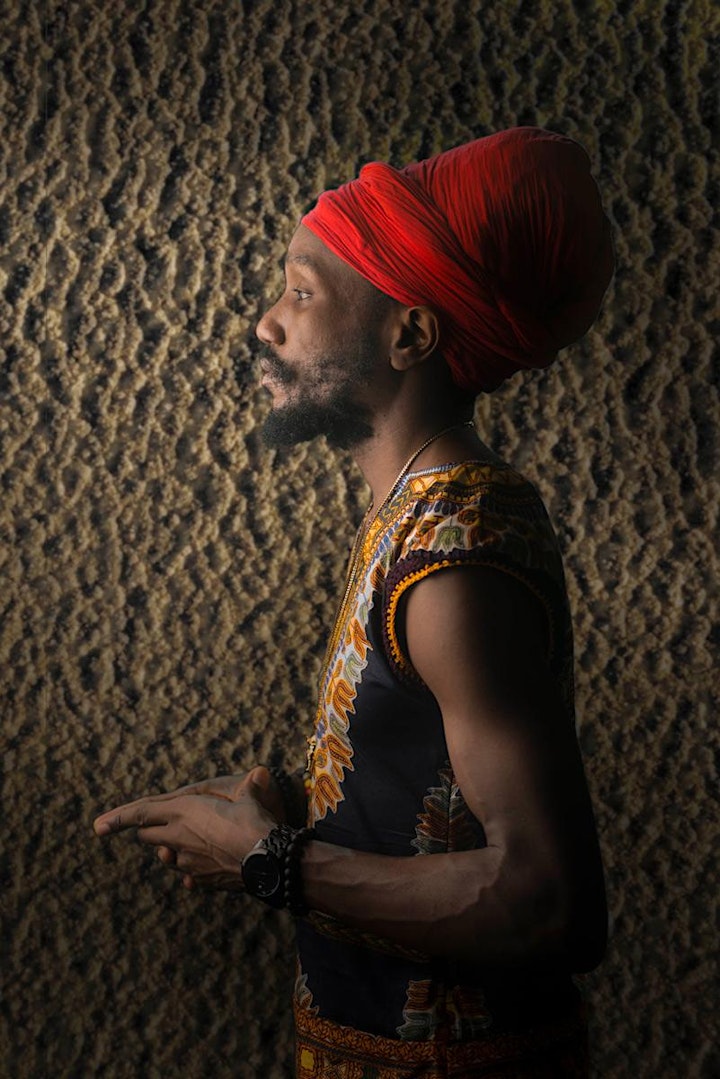 Kabaka Pyramid is a conscious revolutionary lyricist with a unique musical style; blending the power, energy and melody of Reggae with the lyricism of Hip hop. Hailing from Kingston, Jamaica this Bebble Rock Music artist uses his liquid and hypnotizing delivery to spread positive messages of spiritual evolution that forces you to listen.
The name "Kabaka" is Ugandan for "King" and the long lasting survival of the Pyramids of ancient Africa represent his desire for longevity in the music and deep connection to Kemetic roots; leaving messages for generations to come.
This Award winning artist has developed a solid global fan-base that connects deeply with the messages in his music, touring extensively over the past 5 years to the largest of Reggae stages around the world. Aided by his excellent "Bebble Rockers" band; he has brought his message and power to tens of thousands of people in North America, Europe, Central America and the Caribbean. Hitting stages such as "Reggae on the River" (US), Rebel Salute (JA), Sierra Nevada World Music Festival (US), "Rototom Sunsplash" (Spain), Musa (Portugal), SummerJam (Germany), Reggae Sumfest (JA), Reggae Sundance (NE), Reggae Sun Ska Festival (FRA), South by South West (US), BoomTown (UK) as well as headlining multiple 20+ multi-city club tours; Kabaka is well known for delivering an electrifying and entertaining live performance. He has just recently concluded the 30 show, United States "Stony Hill" tour with Damian Jr. Gong Marley to rave reviews.
Following the global success of his impactful hit single "Well Done" in 2015; Kabaka released his "Accurate" mixtape presented by music superpower Major Lazer and Walshy Fire to tremendous reception with the mixtape proving to be an instant classic amongst reggae/hiphop fans. In 2017 he topped the Global Reggae Charts with the anthem "Can't Breathe" the first single off his soon to be released debut full length album "Contraband". The project is being executive produced by Damian "Jr Gong" Marley and is a joint release with Bebble Rock Music and Ghetto Youths International.
In fact the Pyramid has released a powerful catalogue over the years including the critically acclaimed "Rebel Music EP" and the Billboard top 10 charting "Lead the Way EP"; singles such as "Never Gonna Be A Slave", "No Capitalist", "Mi Alright" with Chronixx, and "Free From Chains" as well as music videos for the popular "Warrior" featuring Protoje, "World Wide Love, "Liberal Opposer" and "High and Windy" with Sara Lugo; he has achieved regular rotation on local and international airwaves. Kabaka Pyramid is touted by many as a leader in the new wave of powerful reggae artists coming out of Jamaica.
Kabaka has achieved recognition both locally and overseas, placing #1 on the BILLBOARD Next Big Sound Charts and also featured by the popular music conglomerates, TheFader, MTV Iggy, Okayplayer, Reggaeville amongst many others in the media landscape. In 2013 he was awarded breakthrough artist of the year by the Jamaica Reggae Industry Association. He is also a three (3) time nominee for Song of the year 2013, 2014 and 2015 for the tracks "No Capitalist", "Mi Alright" and "Well Done" respectively. The lyricist has in addition won the award for best reggae recording by Canada's highly respected Juno Awards with Exco Levi.
With a mission to steer future generations towards harmony and unity Kabaka Pyramid is primed and focused on bringing a righteous and conscious way of thinking to the masses through Reggae Music.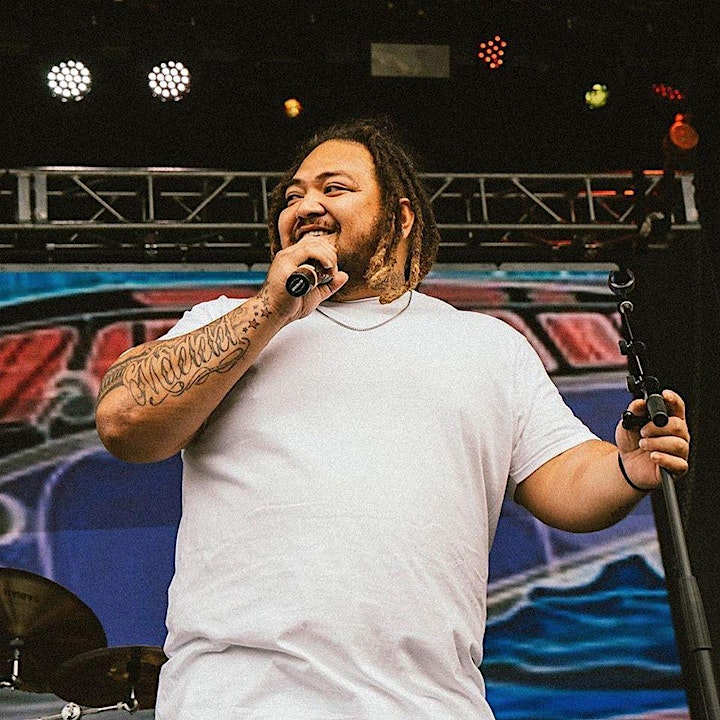 As a young boy, Anapogi grew up listening to his father make music. Whether rehearsing in the garage or on stage at performances. Music was just as much an influence to Anapogi as his father was. So much in fact that young Anapogi learned to play drums and piano before entering grade school. Curious and excited about his life's involvement with music, at 16 years of age he learned to play the guitar and eventually acquired skills of a bassist. Anapogi then realized that at a young age, music was not only a talent but a passion that now became his life. At 17, Anapogi dropped out of high school and made a commitment to his love and talent to pursue a career of music.
With the combinations of island music, roots reggae, r & b, and hip-hop, Spawnbreezie has crafted a new kind of sound. Combining the percussions of hip-hop, the skank of reggae and the vocals of the Island music, he calls it, "Island Hip Hop". In 2002, Spawnbreezie and his family formed a band called, "Le Atalua Breeze Band". Being a part of the Breeze Band, he thought it was only fair to represent them wherever his music took him. At that time he was going by the stage name of "Spawn" and was in the making of his solo debut album. In 2005, Spawn began his solo career and pursued it with great leaps of faith. In transition of leaving "Le Atalua Breeze Band" to becoming a solo artist, he took the word "Breeze" with him in this new journey and introduced himself as Spawnbreezie.
In 2008, Spawnbreezie released his first solo album called "Independent Soldiers". In 2009, he released his
sophomore album titled "Welcome to Zion". The sound of Island hip-hop began to grow, gaining the attention of the people and radio stations across the South Pacific. It was clear at that point that Spawnbreezie had an opportunity to voice his music to a forum of listeners.
He took advantage of the forum and talked about the trials that he faced as a person and an artist. He expressed his emotions through his music and wrote about his life experiences. With the chance to voice his experiences in this industry, he released his 3rd album "Dear Billy" with the smash hit "Oh My Goodness" and YouTube hit "Don't Let Go" but those are just some of many fan favorites. This album has allowed Spawnbreezie to enter into new territories in his career. not only is he opening up the eyes of music lovers everywhere, but also their ears and hearts. With upcoming albums he is sure to propel this not only himself into superstardom but also bring much need attention to the whole Island reggae genre and positive music as a whole.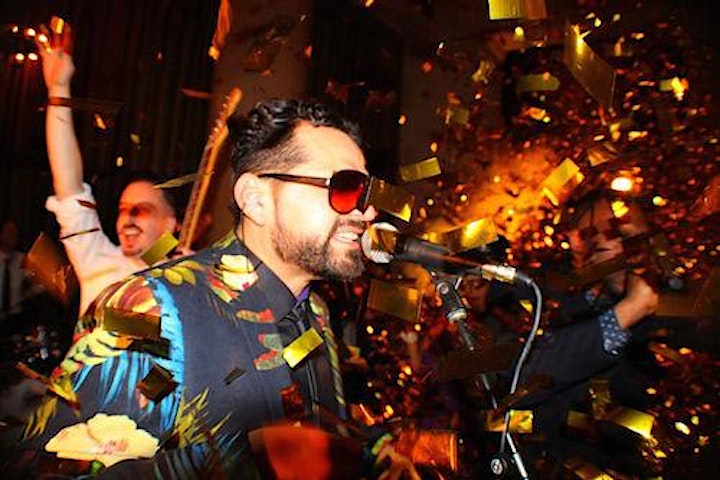 Born in the San Francisco Mission District, for the past two decades BAYONICS has mixed Reggae and Latin music to create a style as unique as the city they call home. Freely melding genres, they carry on the tradition of legendary Bay Area groups such as Santana and Sly & The Family Stone, groups that sought to transcend genre with music that moves people both literally and figuratively.
BAYONICS is led by lead singer Jairo Vargas, whose vocals bounce from guttural grit to smooth and sweet. Being legally blind, Jairo has faced challenges in life but is resolutely undeterred by any physical limitations. He has channeled his life experience into music, delivering live performances with a spirit and soul that transfixes fans.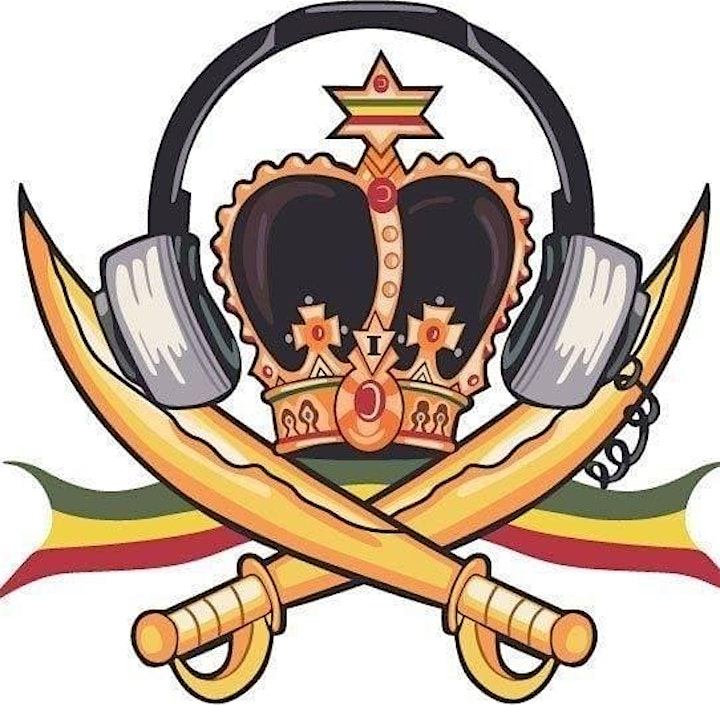 Jah Warrior Shelter High Fidelty is an award winning sound system based in California's Bay Area.

Selector Jahson Reuben, alongside MCs E-Dom, Quality and Monty Irie, originally ranthe sound out of Free Port Long Island, NY in 1987. In the summer of 1988, Rocker T,hailing from Brooklyn NY, linked with the crew and became the official Singjay for Jah Warrior Shelter. Over the next 4 years Rocker T continued to build JWS, addingDJs and MCs including Puppy Ranks, Major 1, Jamalski, GT English, Lenky Don, Ronnie Dread and Smoki. With regular resident dances in Manhattan, NY including The Wetlands, Lonestar Café, S.O.B.'s, Tramps and The Z-Bar, JWS was a fixture on NY's reggae scene. In 1992, Jahson Reuben officially handed the sound to Rocker T.

Teaming up with Daddy B and International Hi Power, JWS ran the legendary Lions Den in Manhattan from 1994-1996. In 1996, after linking with Monty Joe (Culture Yard), Jah Warrior Shelter had its first clash at Culture Yard in Spanish Harlem. Held at a Twelve Tribes of Israel Dance with Freddie McGregor and Jah Faith, JWS played the few dubs that they had and gained a reputation as the "likkle big sound".Rocker T moved to California in 1997, toured the West Coast, released severalalbums and established himself as a top selector in the area. After being introducedby Jamalski to selector Jah Yzer from Miami's Sound Elevation, Rocker T began MCing for Jah Yzer across The Bay Area.

In 1998 Rocker T invited Jah Yzer to join him for studio production work in NY. Bringing along DJ I-Vier, Jah Yzer headed East. After running a few dances in Manhattan over the course of that summer (Spoon, Coney Island High), Rocker T added the two rising DJs to Jah Warrior Shelter. All three returned to the Bay Area and in 1999 DJ Irie Dole joined the crew.

Throughout the 2000's Jah Warrior Shelter has established itself as one of California's leading sounds, winning 9 Sound Clash titles:

* The 4th Annual LA Rumble (2008)

* The 4th Annual Club Dread Clash(2008)

* The 3rd Annual LA Rumble (2007)

* The Unity Clash Part 2 in Berkeley(2004).

* The Unity Clash in Berkley (2003)

* The Bay Area 45 Clash in Oakland(2002)

* The Settlement Clash in Oakland (2002)

* The EIWR Clash in San Francisco (2001)

* The Official VP Records KMEL Sound Clash in San Francisco (1998)Each selector in the crew has his unique style, earning well deserved recognition, notonly as a clash sound, but a top juggling sound as well. In The Bay Area, you canalways find a Jah Warrior Shelter Hi Fi dance to go to and have a good time, eitherwith individual selectors or together as one sound.

Venue Information:
The UC Theatre Taube Family Music Hall
2036 University Avenue
Berkeley, CA, 94704