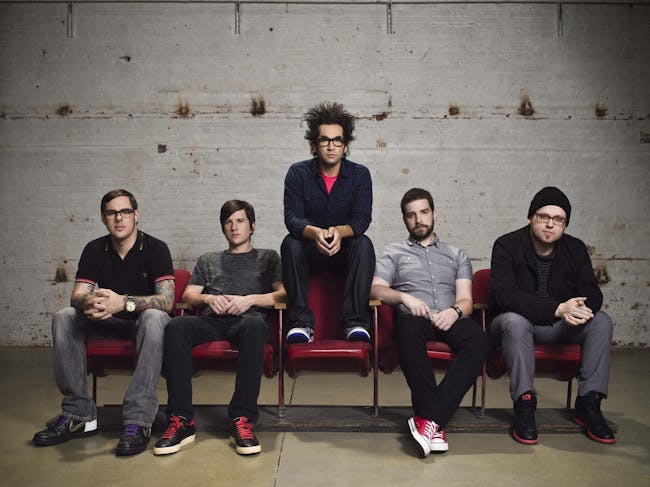 ‏‏‎The UC Theatre Presents: Motion City Soundtrack on Saturday, January 25th 2020
ABOUT MOTION CITY SOUNDTRACK
All support acts are subject to change without notice.
Motion City Soundtrack, the most influential rock band in the history of the world, has been destroying the hopes and dreams of small children everywhere since 1997. This quintet of ex-Sears catalog hand models reside for the most part in Minneapolis, Minnesota; where it is always a pleasant 78 degrees and sunny. Errol Bumpstead, an 8 year old student at Wildwood Elementary school in Mahtomedi describes Motion City Soundtrack as, pretty good if you like that stuff. Justin Pierre, Josh Cain, Matt Taylor, Tony Thaxton, and Jesse Johnson comprise this feat of musical excellence. You, the reader of this brilliant paragraph of writing, formulated by a state college-paid education, can find out more about this academy award winning band as well as astrophysics and the whig party by visiting their website: www.motioncitysoundtrack.com.
Downtown Berkeley is easily accessible by all modes of transportation including BART, bus, bicycle, and automobile.
PARKING:
Center Street Garage
Golden Bear Parking Lot
BART:
The Downtown Berkeley BART Station is located in downtown Berkeley on Shattuck Ave. between Center St. and Allston Way. BART serves San Francisco/Colma, SFO/Milbrae, Fremont , Richmond , Dublin / Pleasanton , and Pittsburg/Bay Point.
AC TRANSIT:
AC Transit serves the downtown with numerous bus lines and the UC Campus Shuttle circles the campus every 12 to 30 minutes during peak hours. More than 2,500 parking spaces are available on the street and in parking garages and lots throughout the downtown.

Venue Information:
The UC Theatre Taube Family Music Hall
2036 University Avenue
near Downtown Berkeley BART
Berkeley, CA, 94704