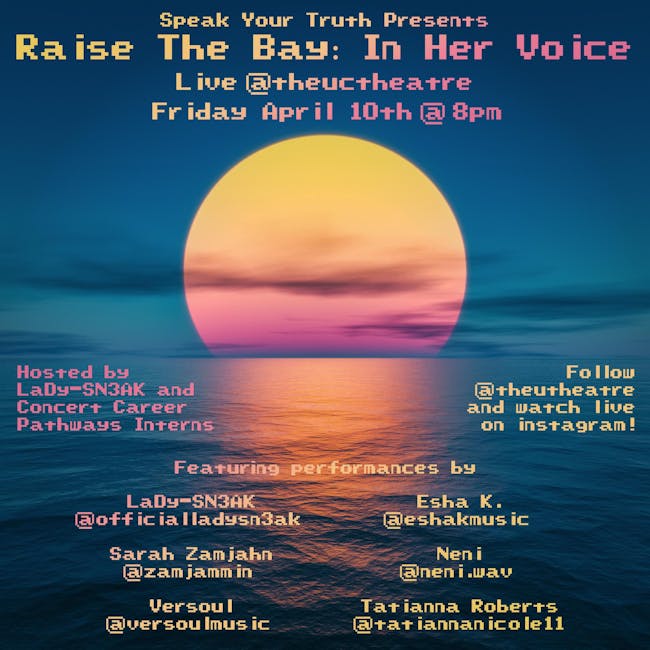 Esha K.
LaDY-SN3AK, Neni, Sarah Zamjahn, Tatianna Roberts, Versoul
Hosted By: LaDy-SN3AK and Concert Career Pathways Interns
Join us for a virtual concert! "Raise the Bay: In Her Voice" will be streaming live on Instagram @theuctheatre on Friday, April 10th at 8pm. We are so excited to create a virtual space for local feminine and nonbinary identifying singer-songwriters and spoken word artists to share their talents with you while we all practice social distancing.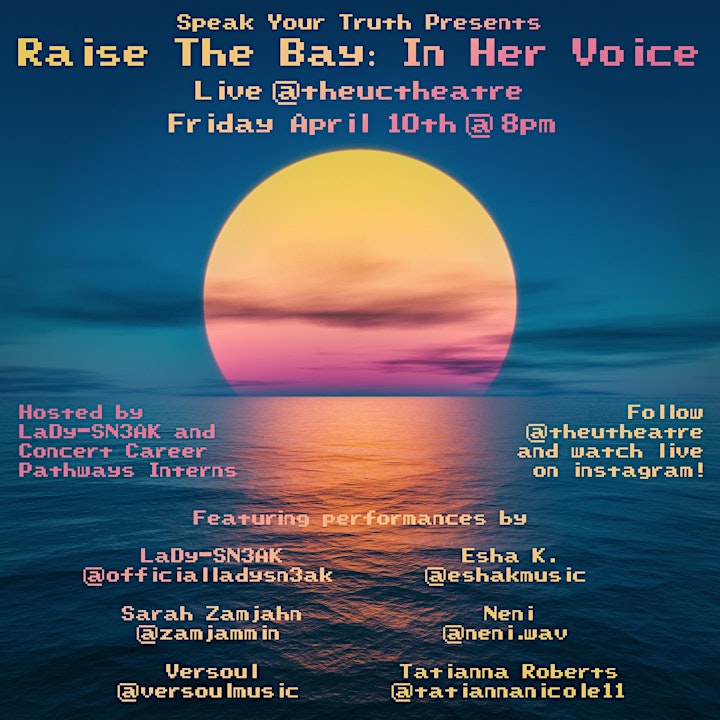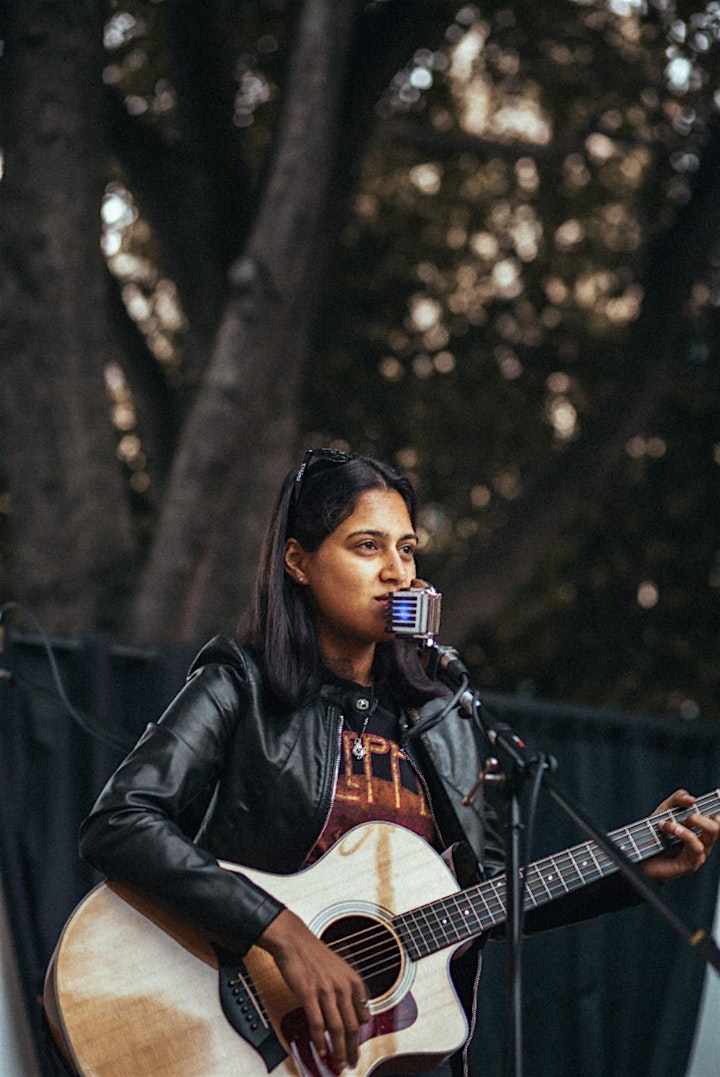 ABOUT ESHA K.
An upcoming alternative/indie singer-songwriter from the San Francisco Bay Area, Esha K. creates a unique blend of heartfelt lyrics, powerful vocals, and catchy guitar riffs. With the perfect balance, she combines these musical elements to deliver songs that appeal to people from all walks of life.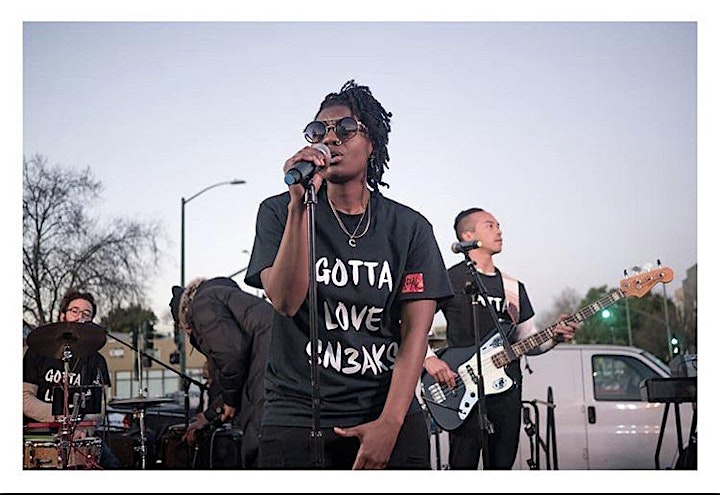 ABOUT LaDy-SN3AK
Shakeea Thomawn Smith, (a.k.a. LaDy-Sn3ak), is a Singer, Rapper, and songwriter, from Oakland, CA.LaDy-Sn3ak's unique voice, enthusiasm, and energy "sneaks up" on listeners when they least expect it! Her reputation as: "reserved with a powerful stage presence", and her love for sneakers led several community members to discovering her stage name! LaDy-Sn3ak was born into a musically-gifted family. Her mother is a gospel singer and her father is a multitalented instrumentalist and vocalist. She was first introduced to music by her parents when she learned how to play the drums at home and sing at church. LaDy-Sn3ak began singing at age 5, dancing at age 8, and rapping at age 12. Her commitment to her craft is matched only by her work ethic.Originally influenced by recording artists such as: Beyonce, Jasmine Sullivan, and Tupac Shakur; LaDy-Sn3ak draws inspiration from artists who have strong conviction in their ideas and beliefs. Her music transcends genres to include styles such as reggae, R&B, hip-hop, gospel and soul. Her work has been described as "brave and honest...that appeals to many audiences." LaDy-Sn3ak aspires to release her debut album, tour internationally, and share her talents with other people in her community as an arts-educator.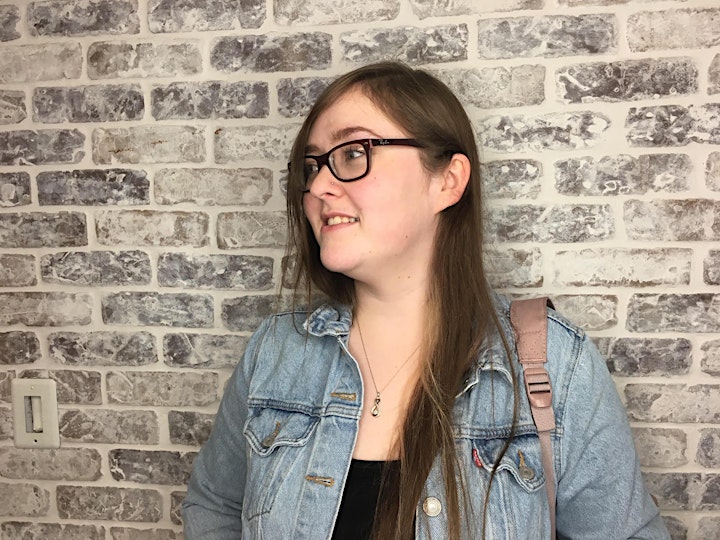 ABOUT SARAH ZAMJAHN
Sarah Zamjahn is an upcoming Singer/Songwriter from Oakley CA. Growing up, Zamjahn was always surrounded by music and instruments, which instilled in her a deep love for music. Her music is inspired by pop, alternative, and rock. Performing at "Raise The Bay:In Her Voice" will be Zamjahn's first performance as a solo artist. She will be debuting original songs, and she is excited to continue this path of expression through music.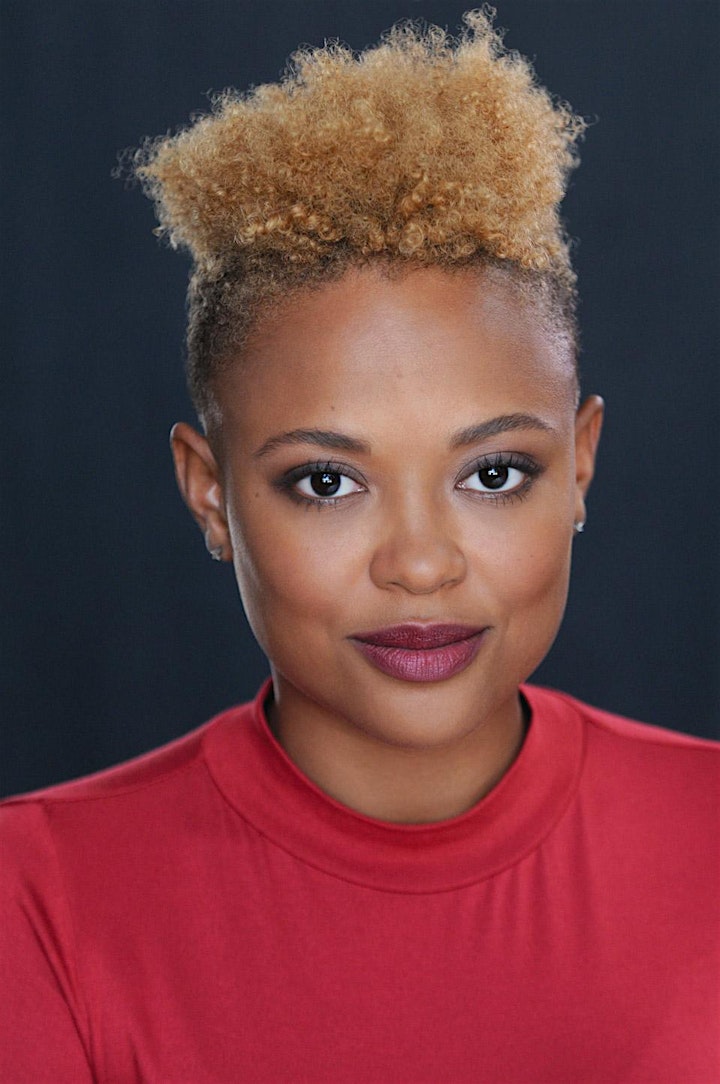 ABOUT TATIANNA ROBERTS
Tatianna Nicole Roberts is an Actress, Model, Realtor, Marketing Representative,Fitness Instructor and above all a Mother from San Francisco, CA. Tatianna has always been a true entrepreneur at heart with and endless amount of drive and ambition that pushes her to continuously strive towards success. She began acting at the young age of 9, where she signed herself up for her first play and from then on she continued to study theater and pursue her acting career to this present day. She has been seen on Investigation Discovery channel's "Wives with Knives", Various episodes on "I Almost Got Away With It" and a wide range of TV commercials and independent Films. She has an Associates degree in Theater Arts and her California Real Estate license and enjoys spending time with family, traveling and dancing every chance she gets. She has a passion for inspiring and helping others anyway she can, whether it's through the performing arts or helping people in the community achieve home ownership.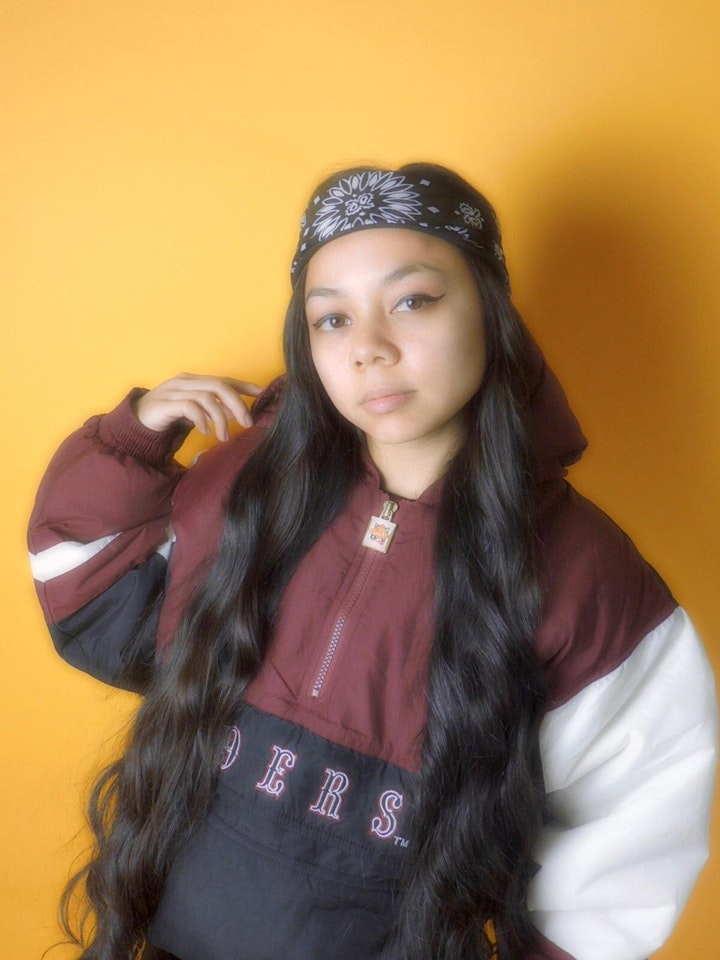 ABOUT VERSOUL
Versoul is an Alternative Hip-Hop MC, Producer and Sound Engineer born in San Francisco and raised throughout the Bay Area. Bouncing to the soundwaves of music of all genres since 1993. Influenced by Alternative, Hip-Hop, R&B and Neo Soul, Versoul was inspired by artists, Eminem, Alicia Keys, Sade, Tupac, Fugees, Nas, and Bone Thugs N Harmony, to name a few. The ability to be free through creativity while expressing herself and telling her story through music is what Versoul loves the most about writing and producing her music. Versoul's main mission is to make a positive impact on lives around the world, with her music and to help others to heal and see inner strength through life struggles.

Through her music Versoul transforms pain into power, and trauma into triumph. Utilizing each life lesson and loss as an inspirational catapult to continue living each day to the fullest and learning to be fully grounded in the present, inspiring others along the way through her story and eternally learning to self-love. The journey through self-love is what fueled Versoul's debut album "Soulrise" available on all digital platforms. In 2019 Versoul released her latest single "Slow Down" with a music video and a debut album out titled "Soulrise" produced by Kyoshy the Kid and herself, recorded at Women's Audio Mission.

Versoul is currently working on recording and releasing new music and and performs in and around the Bay Area with her Live backing Band, Luis Barragan on Guitar, Chris 'Pher The Legend' Ellis on Bass, Damari 'DJ' Lawrence on Drums and DJ Mike of Southside Hayward. Versoul plans to release new music releasing in March 2020, which she produced herself and in collaboration with amazing musicians and artists, Luis Barragan and Pher The Legend, The Whoadees and others!!!

Photo by steezfromthebay

Venue Information:
The UC Theatre Taube Family Music Hall
2036 University Avenue
Berkeley, CA, 94704