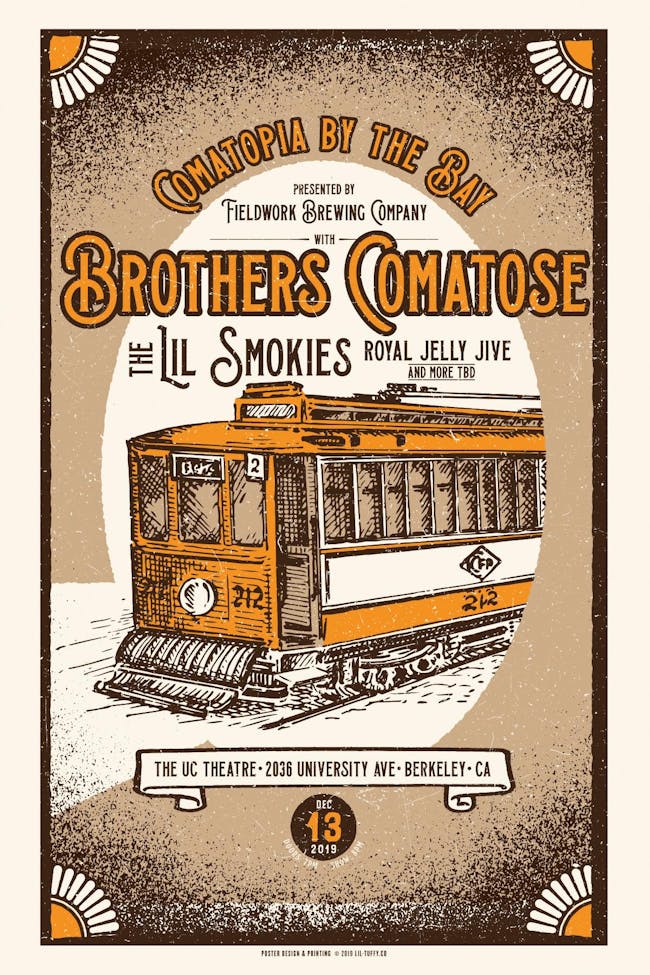 Comatopia by the Bay, Presented by Fieldwork Brewing Co
The Brothers Comatose
The Lil Smokies, Royal Jelly Jive
The UC Theatre Presents: The Brothers Comatose with The Lil Smokies, Royal Jelly Jive
The UC Theatre Presents: The Brothers Comatose with The Lil Smokies
Comatopia - The mini festival brought to you by the Brothers Comatose is moving to Berkeley this year for a special holiday party, Comatopia by the Bay, presented by Fieldwork Brewing Company, on December 13 at The UC Theatre. The event will feature The Brothers Comatose along with The Lil Smokies and some very special guests to be announced in the coming days.
Along with these fine headliners, Comatopia by the Bay will feature all of our favorite things that happen in the summer events…acoustic welcome jam, guest artists, plenty of great Fieldwork beer, and a good time for the whole family.
-----
Downtown Berkeley is easily accessible by all modes of transportation including BART, bus, bicycle, and automobile.
PARKING:
Center Street Garage
Golden Bear Parking Lot
BART:
The Downtown Berkeley BART Station is located in downtown Berkeley on Shattuck Ave. between Center St. and Allston Way. BART serves San Francisco/Colma, SFO/Milbrae, Fremont , Richmond , Dublin / Pleasanton , and Pittsburg/Bay Point.
AC TRANSIT:
AC Transit serves the downtown with numerous bus lines and the UC Campus Shuttle circles the campus every 12 to 30 minutes during peak hours. More than 2,500 parking spaces are available on the street and in parking garages and lots throughout the downtown.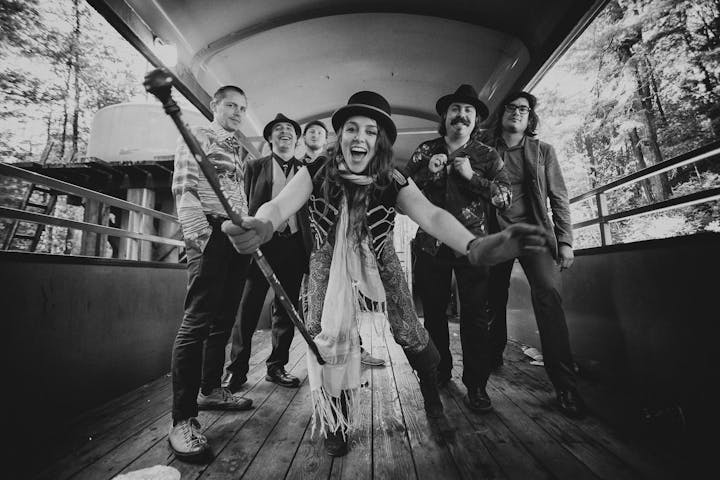 ABOUT ROYAL JELLY JIVE
"San Francisco Soul" is the best term Royal Jelly Jive can find in describing their unique and intoxicating sound. Led by dynamic front-woman Lauren Bjelde, this sultry sextet rocks into uncharted musical territories with their infectious blend of modern and throwback sensibilities. Armed with retro horns, heavy grooves, and catchy songs that are impossible to resist, RJJ can pair with your fancy cocktail at a smoky jazz club and shake up the funkiest dance party.

Born out of Funk and Happenstance at John Lee Hooker's Boom Boom Room, Royal Jelly Jive has gone full-steam ahead in embracing music as their truest calling. From prominent festival stages all along the West Coast, East Coast and U.K., they continue to sweep crowds off their feet with a high energy live show that leaves crowds yelling for Mo' JELLY! Tour highlights include sharing stages with Michael Franti, Lake Street Dive, The Roots, and Avett Brothers, as well prominent slots at festivals such as Napa Valley's Bottlerock, Portland Waterfront Blues Fest and Outside Lands. The future is Jelly.

Venue Information:
The UC Theatre Taube Family Music Hall
2036 University Avenue
Berkeley, CA, 94704